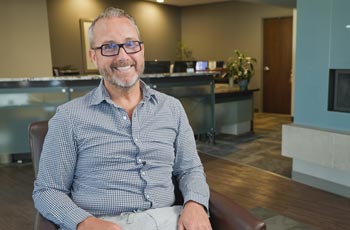 While it used to take a couple of weeks to have a dental crown made in an off-site lab, we use CEREC technology so the dental crown procedure only takes one visit.
This saves you the hassle of having to deal with a temporary crown while you're waiting for the permanent crown to be made. Our Grandville dentists have the necessary training and experience to create same-day tooth restorations.
CEREC stands for Chairside Economical Restoration of Esthetic Ceramics. During your dentist appointment with us, our family dentist uses a handheld device to take digital dental impressions. In the past, dentists would have to insert a tray of pink goop into your mouth to take dental impressions.
Once our dentist has enough pictures of your teeth, she will start to create your dental restoration using a special computer program right in front of your eyes. When the design is complete, our dentist will send it to a milling machine that creates dental crowns right in our office.
CEREC same-day crowns make it possible for you to go home with a new dental crown in one appointment. Same-day crowns are convenient for people with busy schedules.
Sarah Palmer DDS and Amy Harmon DDS always strive to use the latest dental technologies, like CEREC, that benefit patients and helps promote good oral hygiene. If you are interested in learning more about same-day dental crown services, give us a call at (616) 534-0080.