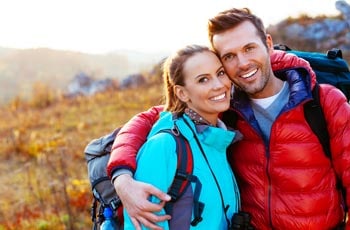 Have you ever felt self-conscious about the appearance of your smile?
If so, you owe it to yourself to schedule an appointment with one of our dentists in Grandville. They will be able to help you go through your options so you can enjoy a beautiful healthy smile.
Below, you'll find the cosmetic dental services we offer to patients.
Have you not gotten the results you wanted with over-the-counter teeth whitening toothpaste, strips, and trays? You may want to consider scheduling an appointment for professional teeth whitening. Our teeth whitening dentists are able to whiten your teeth in as little as one hour.
We also offer custom teeth whitening trays for patients who would prefer to whiten their teeth from the comfort of their own homes. Click here to learn more about our teeth whitening services.
Want whiter teeth in as little as one hour? Get rid of tooth discoloration and staining with ZOOM! Teeth Whitening. Our cosmetic dentist applies a hydrogen peroxide whitening gel to your teeth. A special lamp is then used to accelerate the teeth bleaching process for a more radiant smile. Click here to learn more about our Zoom! teeth whitening services.
Our Grandville dentists are able to restore the look of your smile by applying dental veneers to the fronts of your teeth. Veneers are porcelain coverings that go on the fronts of teeth. They can change the color, size, and shape of a tooth if needed. Click here to learn more about our porcelain veneer services.
Porcelain crowns are used to fix teeth that have been compromised after repeated dental procedures to the same tooth, fracturing, discoloration, or tooth decay. porcelain crown services.
cover the entire visible portion of your tooth above the gum line to give you the appearance and function of natural tooth enamel. Click here to learn more about
Request an Appointment
Sarah Palmer DDS and Amy Harmon DDS are dedicated to helping patients feel confident with their smiles through quality cosmetic dental services. If you are interested in learning more about any of our dental treatments, call our dentists in Grandville at (616) 534-0080.
Related Blog Posts