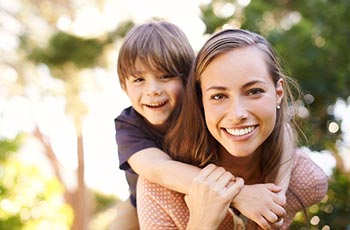 Does tooth discoloration make you hide your smile? Call today to set up an appointment with one of our teeth whitening dentists.
Our dental practice offers both Zoom teeth whitening for instant results in one appointment and take home teeth whitening trays for a more gradual effect. Continue reading to learn how to get the white smile you've always wanted.
Tips For Whitening Teeth
Avoid Staining Foods and Drinks
Certain foods and drinks (like coffee) will stain your teeth over time. While we understand how much everyone loves coffee, it can also stain tooth enamel. Even if you don't cut coffee from your diet completely, simply drinking less can be good for your teeth. Other staining foods and drinks include soda, red wine, sweets, and berries.
Professional Teeth Cleaning
Untreated plaque buildup can give your teeth a yellow tinge. If you have slight tooth discoloration, you may notice a slight improvement in the whiteness of your smile after a teeth cleaning.
During your appointment, a dental hygienist will use a tool called a scaler to gently scrape the plaque and tartar from your teeth. While plaque can be removed at home by brushing and flossing, only a dental professional can remove tartar.
Take Home Whitening Trays
We can create custom teeth whitening trays you can use from the comfort of your own home. It'll take two visits to our office to get your whitening tray. During your first appointment with us, we'll take impressions of your teeth. These impressions are then used to create a whitening tray molded to the contours of your teeth.
When you return for your second appointment, your custom whitening tray will be ready. Your dentist will check the fit of the whitening tray to ensure that it's comfortable to wear. We'll also give you a special whitening gel to put in your tray that's more concentrated than what you'd be able to get over the counter. When you run out of whitening gel, visit our office to stock up.
Zoom Teeth Whitening
We can whiten teeth by up to 8 shades in one appointment! If you're interested in fast results, we recommend Zoom teeth whitening for your smile. If you have slight tooth discoloration, your dentist will paint a whitening varnish and sealant on your teeth. After 30 minutes, we'll wipe your teeth clean for a brighter smile.
For severe tooth discoloration, we'll divide your appointment into three 15-minute sessions. During each session, we'll apply whitening gel to your teeth and shine a special lamp to accelerate teeth bleaching. The light breaks down the hydrogen peroxide in the gel to lift tooth stains and whiten teeth.
To help you pass the time during your appointment, we recommend bringing your phone or other device that lets you listen to music. Once the Zoom whitening is over, we'll give you a special care package so you can relieve pain and maintain your white smile from home.

Our teeth whitening dentists want to help you achieve your best smile. To request your appointment with one of our Grandville dentists or to learn more about professional teeth whitening, call (616) 534-0080.