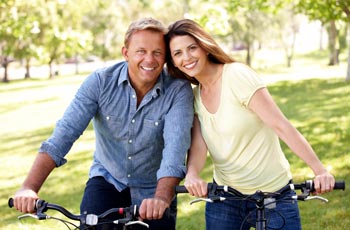 If you have missing teeth, you'll want to ask one of our Grandville dentists what can be done to restore your smile. We offer a range of restorative dental services so you can maintain a healthy smile and feel confident.
Like the name suggests, a dental bridge is used to bridge the gap in your smile caused by a missing tooth. A false tooth is held in place by a tooth on each side capped with porcelain crowns. The false tooth and porcelain crowns are all part of the same dental restoration used to restore your smile after tooth loss. Click here to learn more about our dental bridge treatments.
If you recently lost a permanent tooth, you'll want to ask our dentists if you could benefit from dental implants. A dental implant is a titanium rod inserted into your jaw that functions much like a natural tooth root to anchor a prosthetic tooth. To be a candidate for the dental implant procedure, you'll need a strong immune system and healthy teeth, gum, and jawbone tissues. Click here to learn more about our dental implant treatments.
In the past, you had to wait a couple of weeks for your dental crown to be made in an off-site lab. CEREC same-day dental crowns are designed using special computer software before being made right in our office. Since there is less wait time, you are able to go home with your new dental crown on the same day. Click here to learn more about our same-day crown treatments.
If you have several missing teeth, you may want to consider getting dentures. While living with dentures is an adjustment, many of our patients appreciate being able to eat, talk, and smile with confidence. Depending on how many teeth are missing in your smile, you may opt for complete or partial dentures. Click here to learn more about our full and partial denture treatments.
Our family dentists make every effort to save a tooth. However, tooth extraction may be necessary for teeth that are badly decayed. Before the procedure, we take dental x-rays to determine if the tooth extraction can be done by one of our dentists or if we need to refer you to an oral surgeon. Click here to learn more about our tooth extraction services.
Related Blog Posts
3 Reasons to Get Dental Implants
How Do I Benefit From a Dental Bridge?