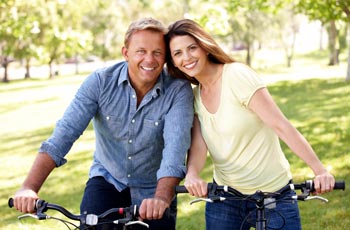 Restorative dentistry procedures used by our Grandville dentists help patients reduce or eliminate issues of dental pain and discomfort.
Using today's advanced dental techniques, the Grandville restorative dentists will work with you to restore one tooth, several teeth or provide you with a full set of custom-fitted dentures. From dental bridges to extractions, our dentists in Grandville and their experienced staff remain committed to helping your mouth look, feel and function better. If you have missing teeth, you'll want to ask one of our Grandville dentists what can be done to restore your smile.
We offer a range of restorative dental services so you can maintain a healthy smile and feel confident.
Like the name suggests, a dental bridge are used to bridge the gap in your smile caused by a missing tooth. A false tooth is held in place by a tooth on each side capped with porcelain crowns. The false tooth and porcelain crowns are all part of the same dental restoration used to restore your smile after tooth loss. Click here to learn more about our dental bridge treatments.
If you have recently lost a tooth, you may want to consider the benefits of dental implants. A dental implant is a titanium rod inserted into the jawbone. The implant serves as a tooth root to later support an abutment and porcelain crown, which give you the look and feel of a natural tooth. Click here to learn more about our dental implant treatments.
In the past, you had to wait a couple of weeks for your dental crown to be made in an off-site lab. CEREC® same-day dental crowns are designed using special computer software before being made right in our office. Since there is less wait time, you are able to go home with your new dental crown on the same day. Click here to learn more about our same-day crown treatments.
If you have several missing teeth, you may want to consider getting dentures. While living with dentures is an adjustment, many of our patients appreciate being able to eat, talk, and smile with confidence. Depending on how many teeth are missing in your smile, you may opt for complete or partial dentures. Click here to learn more about our full and partial denture treatments.